June 20, 2011
News: Two New Workboards Added to the 12-300 Series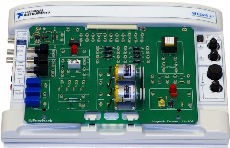 The Feedback 12-300 Basic Electronics Series is now complemented by the addition of two new workboards that provide an introduction to digital electronics.
The 12-307 introduces students to the concept of digital electronics and the different types of logic family. The 12-308 covers Combinational Logic and introduces systems that are composed of multiple logic gates. Both boards feature Feedback's Espial software which contain complete student instruction, reference material and on-screen instrumentation.
The boards use the National Instruments ELVIS II/II+ console, which provides power and signal acquisition.