Precision Modular Control Workshop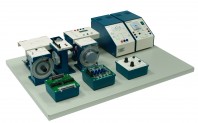 33-008-PCI
The Precision Modular Servo Workshop has been designed to give a rapid and direct path from control system design to hardware implementation. The resolution and accuracy of the system, and the consistency of its performance, makes the Precision Modular Servo Workshop ideal for serious study of digital linear servo control systems.
As well as allowing study of digital control the Precision Modular Servo Workshop also provides a complete introduction to servos, from fundamental studies of analogue servos through to full, real-time digital control using MATLAB™, SIMULINK™, Real-time Workshop and Real-time Windows Target. It is fully supported with laboratory assignments which have been designed to give students a full understanding of the control paths within the equipment.
Using MATLAB™ together with the detailed training manuals supplied by Feedback and an Advantech PCI card [which creates an impressive digital control system development environment] the user is guided through the design process using Phenomenological process models, Dynamics analysis, Discrete models identification, Controller design, Controller tests on the model, Controller implementation in real-time applications, Implementation of various control strategies, Data visualisation,
The Phenomenological process models are designed in SIMULINK™ to provide initial models for the user to test. Model linearization is then discussed and the use of simple dynamics analysis - like bode diagrams poles and zeros maps are introduced.
To obtain accurate models Identification procedures incorporating MATLAB™ functions are described. The user has a chance to go step-by-step through the discrete models identification. One of the 'obtained models' is used for the Controllers design and PID control is explained. A guide is given for PID controller design, testing, tuning and implementation on the model.
Root locus technique is used to illustrate the changes that PID controller tuning inflicts on the control system performance. The designed controllers are prepared in SIMULINK™.
Features
Analogue servo operation
Open-loop systems Speed/Position
Closed-loop systems Speed/Position motor characteristics
Frequency and Step response measurements
Digital servo operation
Real-time digital control with PID controller design
Adaptive control
Subject Area
Real Time Digital Control
Mathematical Modelling
Transfer Function and State Space Representation
Frequency Response
Single Input - Single Output Feedback Control
Time Domain
PID Control
Linear Quadratic and Time-Optimal Control
Motor Characteristic
Speed and Position Control
On-Line Tuning of Parameters