Multi-Channel Power Sensor (NEW)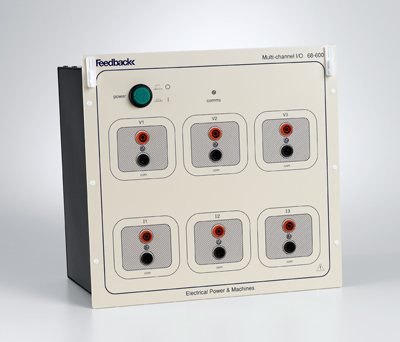 68-600

The 68-600 Multi-Channel Power Sensor is a hardware & software package used to capture signals for analysis and display using the integrated instrumentation in Espial and is part of the 60-070 electrical machines range.
It provides numerical, waveform, spectral and vector plots of both direct measurements, such as voltage and current as well as derived functions such as relative phase and power factor. This is available for both single phase and three phase systems
In order to have clean and stable measurements extensive use is made of digital signal processing, in particular where signals have significant harmonic content or where unavoidable noise is present. It is also possible to examine the parameters associated with individual
harmonics. This is of interest in the analysis of non-linear loads and their contribution to system losses.
The direct measurements comprise three voltage and three current channels, each with their own reference so there is complete connection flexibility. Preconfigured displays are available that mean common measurements can be achieved quickly and simply.
Displays:
• Real-time waveform of voltage and current, organised such that relevant traces may be overlaid
• Three D vector display of voltage and current showing both amplitude and phase
• Spectral data in both graphical form, as well as derived functions such as total harmonic distortion
• Numerical data such as frequency
• Data from different displays may be viewed concurrently
All instrumentation has built-in facilities for accurate parameter extraction and display export to stored images.
Specification:
Number of voltage channels 3
Voltage input resistance >10 k ohms
Number of current channels 3
Maximum differential peak voltage 600 volts, 320 volts with respect to local ground
Maximum current 14 amps
Current input resistance
< 0.5 ohms

Computer Interface usb2
Maximum sampling rate 512 kHz
Maximum sample length 1024
Resolution 12 bits
When operated in conjunction with the 67-505 Swinging Field Dynamometer and the 68-445 Machine Testing System, data may be taken from both systems at the same time and hence plots such as torque against power factor may be created. Also while plots such as torque against speed are plotted the user may view the voltage and current vectors.