PV75-100 Photovoltaic Principles Trainer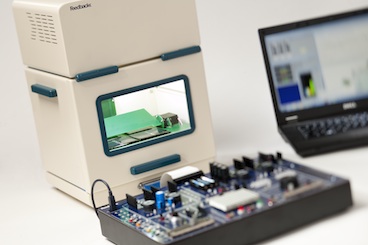 PV75-100
The Feedback Photovoltaic Principles trainer is a bench-top instrument which teaches the fundamental principles of photovoltaic energy. The course content is relevant to engineering undergraduates complementing theoretical studies on renewable energy and would also serve as a basis for project work.
The photovoltaic effect is a method of energy generation that converts solar radiation into an electrical current by means of semiconductors that are arranged into solar cells. This method of generating electrical energy has seen rapid expansion in recent years as the global pursuit of renewable power generation gains momentum.
There is a range of experiments that the student can conduct that are based on Feedback's Espial Courseware which delivers course content, virtual instrumentation and relevant background theory.
Features
· Enables automatic plotting of cell IV curves
· Light source simulates solar illumination
· Suitable for undergraduate study and projects
· Espial software featuring virtual instrumentation
· Series and parallel connection methods compared
· Removable project board allowing further study
The instrument consists of a light source which acts as a solar simulator that allows photovoltaic (PV) cells to be illuminated at light levels comparable with direct sunlight using very high brightness LED modules. This provides a safe, temperature controlled environment for working at high levels of illumination. Cells are fitted to a PV carrier board which allows them to be positioned in the light box at variable positions beneath the light source. By patching connections on the applications board, the student can investigate the performance of different series and parallel electrical combinations of the cells.
A shading vane allows selective and progressive shading of either the front or rear pair of PV panels and the effects on generated power observed. The PV carrier is fitted with thermistors and light sensors that enable the temperature and illumination of the panels to be monitored and controlled.
A student Applications console enables an electronic load to be applied to the cells under test and allows voltage and current measurements to be performed by the virtual instrumentation in the PC-based Espial software. This process can be automated to give a family of curves at different levels of illumination, for a given cell.
The console also allows the study and experimentation of power conversion and energy storage and has a removable project board, allowing specific areas of study. The instrument is furnished with a project board featuring d.c.- d.c. converters employing boost and buck topologies. Further boards are available from Feedback Instruments.
And all the time the student has full instrumentation and can be guided through a complete curriculum using Feedback's class leading Espial Learning Platform.
Subject areas:
1. Open circuit voltage and short circuit current cells in series and parallel.
2. Maximum power point with resistive load at constant illumination.
3. Maximum power point with varying illumination and plotting of MPP curve.
4. Effects of temperature on cell output.
5. Effects of shading and physical layout.
6. Bypass diodes.
7. Solar day simulator.
PV Applications
The purpose of the PV Applications console is to teach the student about common uses of PV power and the type of devices which are found in PV renewable energy systems. Primarily these devices are concerned with converting electrical power from one form to another.
Maximum Power Point Tracking. This allows the load presented to the PV panel to be optimised for maximum power conversion. It can also be used to illustrate the principles of d.c./d.c. conversion – specifically boost and buck converters. When the console is in automatic mode, the Espial software can provide automatic continuous Maximum Power Point Tracking.
Energy Storage – Super Capacitors. Here a super capacitor is used to demonstrate energy storage when used in conjunction with PV arrays and power conversion.
Student Project Board - Power Conversion. A plug in board allows the student to work on specific subject areas related to PV technology and power conversion. The supplied board features several topologies of d.c. to d.c. converter. A blank board for student experimentation is also provided.