Antenna System Demonstrator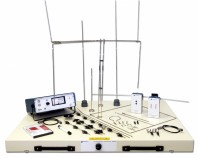 ASD512
This is a fully operational Antenna System Demonstrator, working at a frequency of 167.2MHz, giving a half-wave element of approximately 90 cm. It has been designed to provide an ideal classroom demonstrator.
The system is provided with a kit of parts allowing many types of antenna to be constructed, making the system versatile as a demonstrator of both antenna principles and practice.
The system has two hand-held detectors that show relative magnitudes of voltage and current fields around the antenna, and the field strength of the antenna. Practical demonstrations are described in the accompanying manuals, illustrating the principles involved and introducing the student to the various basic concepts of most types of antennas in common use.
Features
Fully operational antennas
Vivid displays of antenna characteristics
Convenient size for classroom
Versatile and easy to assemble
Complex concepts made easy
Reconciles theory and practice
Subject Area
Basic Theory of Radiation
Radiating and Non-Radiating Systems
Feeders
Radiation Resistance Drive Point Impedance and Ground Resistance
Physical and Electrical Length
Directional Antennas and Radiation Patterns
Parasitic Arrays & Antenna Gain
Antenna with Folded Elements
Slot Radiators
Loop Antenna