AntennaLab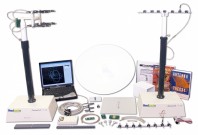 57-200
AntennaLab 57-200 is an integrated package of hardware and software for teaching and demonstrating common antenna configurations at all levels of study. It can also be used as a design tool by those engaged in research and development of antenna systems.
AntennaLab is operated in conjunction with a PC and the whole system can easily be accommodated on a standard laboratory bench. The equipment comprises two towers, approximately 1 metre high, one of which contains a low-power generator controlled by a frequency synthesiser, and a motor/shaft encoder assembly to rotate the antenna under test. The antenna being investigated is mounted on a small platform on top of this tower.
The 'receiver' tower contains a receiver controlled by a frequency synthesizer and produces a dc output representing the received signal intensity. A broad-band array of log periodic antennas is mounted on this tower and is not changed in normal use. The receiver and generator synthesizers are synchronised, the two tower assemblies being linked by a five-metre multiway cable carrying both power and data. The 'generator' tower is linked to the microcomputer.
A selection of components is supplied with the system to enable most of the common antenna types to be constructed.
The measurements are controlled, and the results plotted by the microcomputer. The unique and powerful software provides the test interface & provides high quality graphical displays. There are no user adjustments required on the equipment itself, although it is necessary to connect up the required rf configuration for specific measurements. The results are quantitive and, within the limits of environmental factors, agree with theory.
Espial Software Environment
AntennaLab requires the associated Espial Software to perform the assignments. Whether used in isolation or with other Espial Software products, the structured content is displayed in a collapsible menu tree.
Introductory information about AntennaLab's approach to the subject is followed by details of the available application windows:
Signal strength monitor
Signal strength vs angle graph windows ( 2D cartesian or polar, 3D polar)
Signal strength vs frequency graph window
Return loss vs frequency graph window (see illustrations)
Additional guidance is given on the installation of the hardware and the formatting and configuration of the graphing applications. Other Espial Software products offer a more interactive alternative to the traditional assignment manuals.

Manuals Supplied
AntennaLab comes complete with all hardware, measurement software, simulation software, 57-200 Operator's Manual, Student's and Tutor's Workbooks, Simulation Software Manual and two reference textbooks.
Ancillary Equipment
The minimum PC required to operate AntennaLab is a Pentium system with 64M RAM running Windows 98, 2000 and XP or Windows 7. At least 15MB hard disk space and USB interface is required.
Features
Unique integration of hardware and software
Simulates, models and tests real antennas
Hardware modelling between 1200 and 1800MHz
PC measurement and results
Rapid graphic display of antenna characteristics
Bench-top operation
Low, safe power output
USB interface
Subject Area
Familiarisation
The Diplole in Free Space
Effects of the Surroundings
Dual Sources
Gain
Directivity and Aperture
Ground Reflections
The Monopole
Phased Monopoles
Resonance
Impedance and Standing Waves
Return Loss and VSWR Measurements
Parasitic Elements
Multi-Element Parasitic Arrays
Stacked and Bayed Arrays
The Log Periodic Antenna
The Horn Antenna
The Dish Antenna
Projects