Complete Microstrip Trainer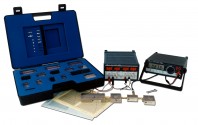 MST532-1
This trainer uses high precision components to allow students to investigate microstrip technology principles. The Complete Microstrip System, MST532-1, needs no special test equipment, having been designed for use with the digital multimeter and dual dc power supply, provided.
A CD-based manual provides users with detailed background material, theory and structured assignments, whilst avoiding unnecessary mathematical analysis.
The MST532-1 comprises eighteen passive circuit components, three active circuits and all the leads and connectors required to construct a variety of commonly used configurations, many of which incorporate microwave integrated circuits (MICs).
Features
Latest Microwave technology
2.4 to 3.4GHz VCO
2 to 4GHz PIN diode modulator
No ancillary test equipment required
Safe low power output
Components identified with inscribed reference number
Supplied in protective case
Subject Area
Power Source and Detector Action
Action of a 3-Port Circulator
Insertion Loss Measurement on a Low-Pass Filter
Measurement of Return Loss
Reflection Coefficient and VSWR of a Filter
Microstrip and Commercial Matched Loads
Matched Investigations: Reflection Coefficient of Unknown Resistive Load and its Matching by 1/4λg Transformer and Shunt Stub
Properties of a Power Divider and Rat-Race Coupler
Effective Dielectric Constant/Line Loss Measurement with a Ring Resonator
DC Biasing and MMIC Amplifier Investigations
PIN Diode Modulator Investigations
Microwave Radio Link and Antenna Investigations