Fibre Optics Trainer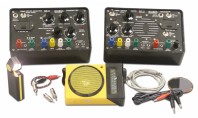 EFO1101
The trainer provides the means to investigate various aspects of fibre optic technology and its use in transmitting analogue and digital data, with particular reference to telecommunications.
The trainer comprises an optical transmitter with an infra-red LED, a red LED and variable output controls. It also has an optical receiver, which includes: a loudspeaker for analogue output, high and low impedance analogue outputs, variable analogue gain, buzzer, digital output and TTL, CMOS and RS232 voltage level digital outputs. Two lengths of fibre optic cable, various electrical connectors and accessories complete the kit.
For organisations with no practical experience of Fibre optics, this trainer provides an effective means of obtaining a hands-on introduction to this technology. EFO1101 is supported by a Fibre Optics Monitor, EFO1105, which measures signals carried by fibre optic cables.
Features
Teaches fibre optic measuring techniques
Demonstrates standard properties of light (visible and infra-red)
Analogue and Digital data transmission
Self-contained training package
Subject Area
Properties of Light and Infra-Red Radiation
Transmission of High Quality Analogue and Digital Data
An Alarm System Based on the Presence of a Light Signal
Differences of Analogue and Digital Techniques
Measurement of Optical Absorbtion
Reflection Properties of Various Materials
Testing Analogue or Digital Optical Receivers & Transmitters