FM Stereo Radio Systems Trainer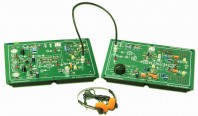 FM2962
The FM Stereo Radio Systems Trainer comprises a pair of open-boards:- the FM2962A stereo generator and the FM2962B stereo receiver.
The FM receiver circuits operate over a range of 88 - 108MHz and the generator provides a fixed output frequency of 100MHz with a 19kHz pilot tone. The generator output is only a few milliwatts, so the range of transmission is extremely limited and no licence is required.
The receiver operates on an IF frequency of 10.7MHz in stereo or mono mode and may also be used with an external antenna to receive normal broadcast and amateur signals. Switched faults may be introduced on both generator and receiver units. On the receiver, fault options include Multiplex, Pilot tone and Mute errors; power for tuner, audio and demodulator, forces tuning volts to zero and high-gain AFC loops locking to a signal.
Switches on the generator create left/right signal, VCO supply, modulated subcarrier, baseband, 19kHz pilot tone, 38kHz oscillator and phase shift fault options.
Features
Stereo transmission and reception
Built-in microphones and speakers, plus stereo headphones
Transmission medium may be coaxial cable or very limited range on-air
Low transmission power, less than 10mW
Extensive use of monitor points for signal tracing
Switched faults on both generator and receiver
Subject Area
Basic FM reception
Stereo Transmission
Stereo Reception
Simulated Faults