i-SECURIT - Network and Data Security System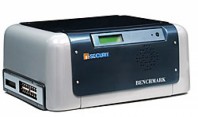 i-SECURIT
The i-SECURIT is a complete system with two interconnected real life networks- the "Trusted Network" and the "Black Network".
These networks are isolated from the real world i.e. any corporate or campus LAN and the Internet.
The i-SECURIT Central Control Unit (CCU) runs the network services, administration and control methods. The Black network users attempt to compromise the services by different attacks, such as Intrusions, Password Cracking, and Denial of Service. The trusted network users simultaneously work on, and are trained to deploy suitable counter measures to keep network services running properly.
The BENCHMARK i-SECURIT covers a large gamut of network security threats and its users can obtain hands-on experience with a wide variety of network security issues and cryptography methods. The course design allows the learner to read about a concept, witness a demonstration and then actually practice its execution. This meets the study flow of beginners as well as industry professionals.
Through a single Benchmark i-SECURIT you can connect up to 15 PCs, with one slot reserved for the network administrator and can start working with as little as two or three PCs.