LAN-T Trainer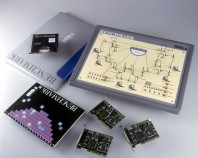 LAN-T
The LAN-T Benchmark trainer is useful for study and development of reliable data transfer protocols, networking layers and applications. The Trainer exposes users to networking concepts at the physical, MAC network and transport layers, through a series of designed experiments. The experiments reinforce the theory covered in lectures, while the 'hands-on' programming exercises train students to industry level. The trainer can also be used for project work involving many layers of the network hierarchy.

The NEU hardware emulates six nodes (two nodes per PC), which can be configured to Bus, Star or Ring topologies. It has error generators and delay generators between nodes. Each NIU card emulates two independent nodes supporting various MAC layers on a single PC. The system scales up to emulate larger networks by adding more NEUs, NIUs and PCs.
Features
Comprehensive set of experiments to observe and measure the behaviour of several LAN protocols: MAC layer, Data link layers and connection management
User configurable data rates -8kbps, 16, 32, 64, 128, 256, 512 and 1Mbps
Generation of bit errors and Frame errors between nodes -up to 10-6
Variable Network size - up to six nodes with each NEU. NEUs can be cascaded to increase the network size
Emulation of two nodes by each PC. Halves the numberof PCs required
User configurable delays between nodes - emulates the propagation delay in real networks
Subject Area
Experiment Level 1

Observation and measurement of behaviour of various network protocols. Step-by-step instructions given in manual under the "Trying it out" section.
Packet transmission on a point-to-point link
Measure throughput for the following MAC Layer protocols by varying the offered load - changing IPD, packet length,data transmission rate, bit delay, introducing bit errors, frame errors,
Token Holding Time (THT) depending on protocol:
-ALOHA -CSMA -CSMA/CD
Token Bus
Token Ring
Measure of throughput and the effect of bit errors for the following DLL protocols (also called as Reliable Transfer Protocols) - varying the timeout period, introducing bit errors and frame errors:
-Stop-and-Wait, -Sliding Window, - Go-back-N