Optical Fibre System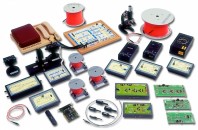 OFS IV
The OFS IV is designed to provide comprehensive training to students and all levels of scientific and technical personnel on fibre optic devices and digital communication systems.
The laboratory spans fibre optics and related topics, including:
• Fibre optic device characteristics
• Principles of fibre optics and digital communications
• Fibre optic equipment
• Digital and analog fibre optic links
The OFS IV System can be used for demonstration, training,
and experimentation, and can form the basis for student and
research projects and prototypes.
For full details of OFS IVi and OFS IVi plus options please see OFS IV datasheet.
Features
Demonstration & Measurement of multimode fibre characteristics – Bending Losses, Attenuation, Pulse Broadening, Numerical Aperture, Clad mode stripping study.
Individual LED, LASER, PD and APD Modules for device characteristics study. The characteristics modules cover forward, reverse & zero bias, leakage characteristics.
Experimental OTDR: Integrate essential blocks of an OTDR and understand its principles of operation.
Learn how to use an OTDR with fabricated fibre events
Plastic and glass fibre links - for experimentation and as interface modules for other digital circuitry.
Light Source with variable optical power output, continuous wave, external modulation, internal word and PRBS generation
Power Meter calibrated at 650, 850 & 1300 &1550nm
Specially designed component-insertion PCBs for link construction – for repeated use by students
Comprehensive lab manuals for individual modules. The manuals cover the theory and guide students through a series of experiments
Optional Connectorisation and Splicing Kits – to provide students with hands-on experience in connectorisation and splicing of glass fibre
Optional range of LEDs, detectors, fibres, connectors, adaptors & receptacles – for custom-development of links, and for study of fibre optic devices and fibre-handling
Optional Single Mode Fiber Characteristics Study – Modes Observation, Normalized Frequency (V-number) calculation, Mode Field Diameter & NA Measurement.
Subject Area
Multimode Plastic Fibre Characteristics
Multimode Glass Fibre Characteristics
Laser Diode Module
Avalanche Photodiode Module
LED Module
PIN Photodiode Module
OTDR and Fibre Event Module
Digital Communications Concepts
Fibre Optic Link Design
Analysis for Analogue Digital systems