Transmission Line Demonstrator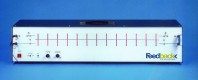 TLD511
The Transmission Line Demonstrator TLD511 visually clarifies transmission line concepts by graphically displaying, at low frequency, the characteristics of a transmission line.
For students of communications engineering, the TLD511 provides an ideal demonstration of line characteristics and wave motion. Demonstrating these characteristics has been a problem in the past because of the high transmission speeds involved. Now, by using a simulated line, the TLD511 Demonstrator effectively displays at low frequencies the high frequency characteristics of a transmission line so that students can easily observe them. The operator can also readily adjust them. The line is completely symmetrical so that either end may be regarded as the input or output. Although primarily designed to illustrate features common to electrical lines operating at power audio and radio frequencies, the TLD511 can also be used to teaching other subjects, such as acoustics.
The Transmission Line Demonstrator TLD511 has been designed to reproduce at low frequencies the essential characteristics of a transmission line, which would normally only be observed by more complex equipment operating at high frequencies. It comprises a self-powered simulated transmission line for bench mounting. The front panel houses indicators related to a mimic diagram of the line and its terminations. The line is represented by a 13-section illuminated display 0.6 metres in length. Electrical potentials are displayed on columns of LEDs which are equally spaced along the simulated line. The columns light from the centre outward, indicating the polarity and magnitude of the voltage present at that point on the transmission line - upward denoting a positive voltage, downward negative.
There is an attenuation control, which acts equally on all parts of the line and gives continuous adjustment from nearly lossless to high loss condition. A manual hold facility is provided which allows the display to be held at any point. The simulated lines length can be switched to values L, 2L and 8L. The corresponding propagation times are 0.25s, 0.5s and 2s. The wave velocity 4L per second is chosen so that the progress of a wave along the line can be easily observed. A step function generator is provided enabling a pulse or steady dc level to be applied to the line at either end. A set of plug-in terminating impedances (including a capacitor) is supplied. These may be connected either in series or in parallel with the line terminations, which are 4mm socket/binding posts.
All the features of line performance mentioned, except the impedance of the line, can be demonstrated with no more additional equipment than a sine-wave generator. The frequency range required is 0.1Hz to 10Hz, variable up to 10V pk-pk from 600W - output impedance. Feedback's Variable Phase Generator VPG608 is ideal for this purpose.
For the impedance investigations in demonstration/assignments four and five, an X-Y oscilloscope with dc coupling and a long persistence tube is required. The application notes suggest ways in which more detailed impedance measurements can be made with the help of resistance boxes, a capacitor and a micrometer.
Features
Large bright LED display
Built-in step function generator
Variable simulated line length
Manual hold facility
Comprehensive instruction manual
Subject Area
Propagation of a Wave Front
Propagation of a Sinewave
Effect of Wavelength
Attenuation and Dispersion
Terminations
Reflection
Standing Waves and Characteristic Impedance
Partial Reflection
Standing, Waves and Superposition
Incident and Reflected Waves
Resonance
Attenuation