WiCOMM-T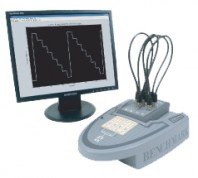 WiCOMM-T
Digital modulations are often expressed in terms of I (in-phase) and Q (quadrature) signals, and all modern digital communication systems and gadgets have three main blocks namely:
Data processing block
ADC and DAC conversion block
RF block
All the blocks process the I and Q signals simultaneously, leading to the use of complex algebra and analysis in their design and implementation. This standardized and uniform approach in building digital communication systems or gadgets results in lower cost of development and manufacturing. The focus is also turned towards adding more features and bringing in more techniques within the available RF spectrum.
Subject Area
Baseband Digital Communication Link:
Raised Cosine spectrum pulses
Timing acquisition algorithm
Clock tracking & slip control
Matched filtering – performance in noise

Quadrature Modulation Schemes:
QPSK (Phase and frequency offset)
Constellation plots
Carrier recovery algorithm
Carrier and Clock Tracking

Adaptive Equalization Techniques:
Adaptive linear equaliser
Adaptive decision feedback equaliser
MSE convergence
Decision aided channel tracking

GSM:
GMSK modulation and demodulation
Viterbi equaliser for GSM

Basics of DS-CDMA:
Orthogonal and non-orthogonal spreading codes
Multipath channel estimation for RAKE receiver
SER performance of RAKE combiner

Basics of OFDM:
Timing and Frequency synchronisation
Channel estimation using FFT processing
Channel estimation using modified LS
Mean Square Error performance